The guitars used by Steve Ball in his presentations and performances are all Civil War era Martin guitars. Steve has collected guitars for over thirty years, and is an avowed Martin lover. Here's the info on the guitars used by Steve Ball.


Number one: 1860's era Martin Size 2, Model 20 guitar. This is the guitar Steve has used since his beginning days as a Civil War musician. This guitar is the workhorse of the group, it is used mainly for events outdoors where Steve will be found moving around an encampment, or through a Living History event. This guitar had been poorly refinished in the past by another owner, and had an incorrect bridge assembly installed. Still played and sounded perfect, however the poor quality repairs and incorrect parts justified a proper restoration, which this guitar finally received. Now in it's original specifications and appearance, an excellent example of a 19th century Martin guitar. In it's original "coffin" case, with the original paper label.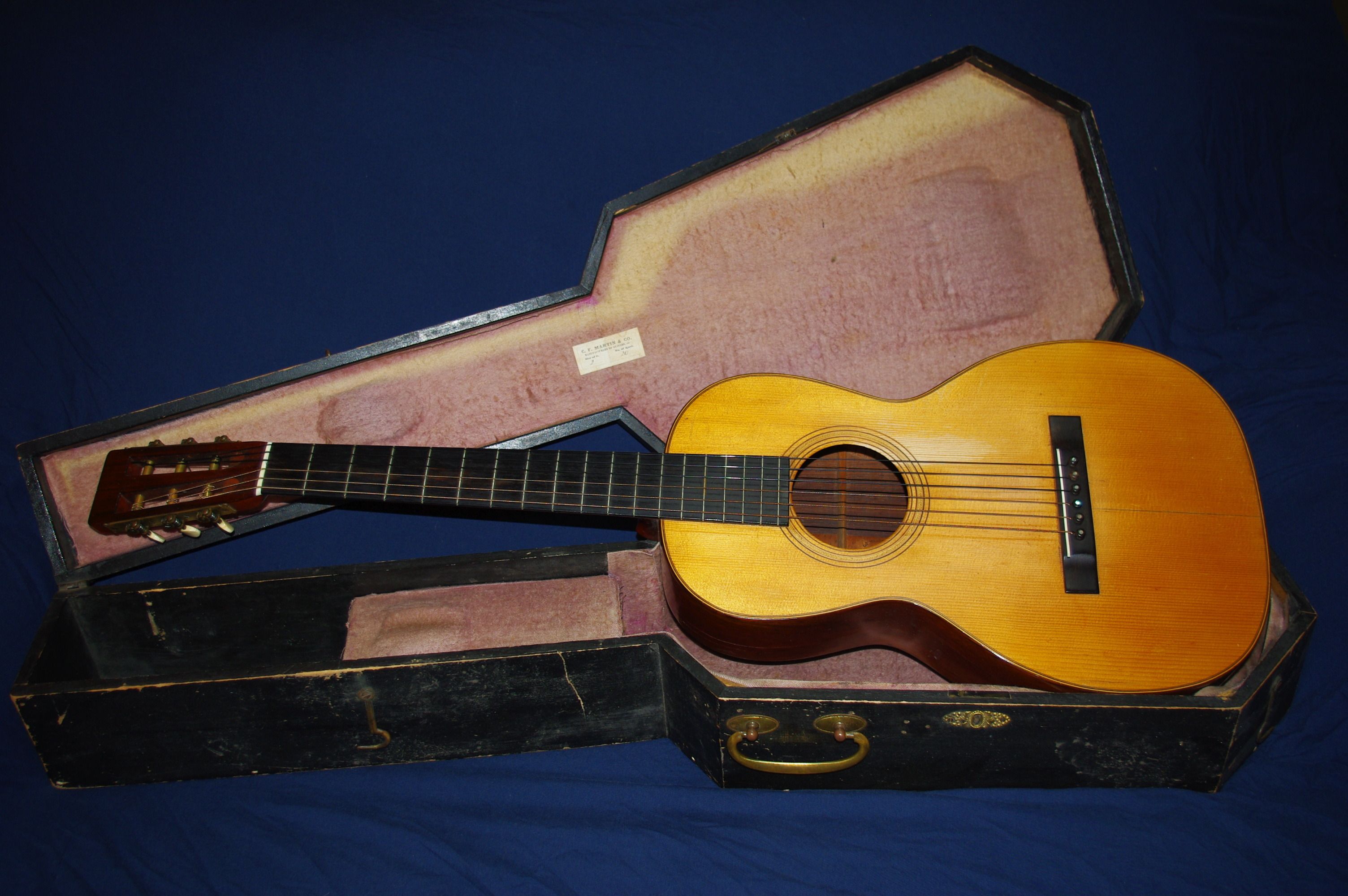 Number Two: 1850 Martin, Size 3, Model 17. A fairly rare instrument, as the size 3 was the smallest Martin produced at this time. This guitar was purchased by Steve several years ago in poor condition, needing some major repairs, but still in it's original coffin case that also needed repair. The repairs were beyond the work Steve is comfortable doing himself, so he turned this precious little guitar over to luthier Gary Demos of Hilliard Ohio, who is an incredible guitar builder, repairman, and player, and lucky for Steve, a neighbor who lives just blocks away. Gary took his time, and over a period of several months, brought this rare, original instrument back to life. The entire instrument is original, and to be noted, completely crack free after all of these years. Steve did the repairs to the case, which also still has the paper hand written label in the lid. This guitar is used for indoor presentations only. Steve considers this guitar the gem of the collection.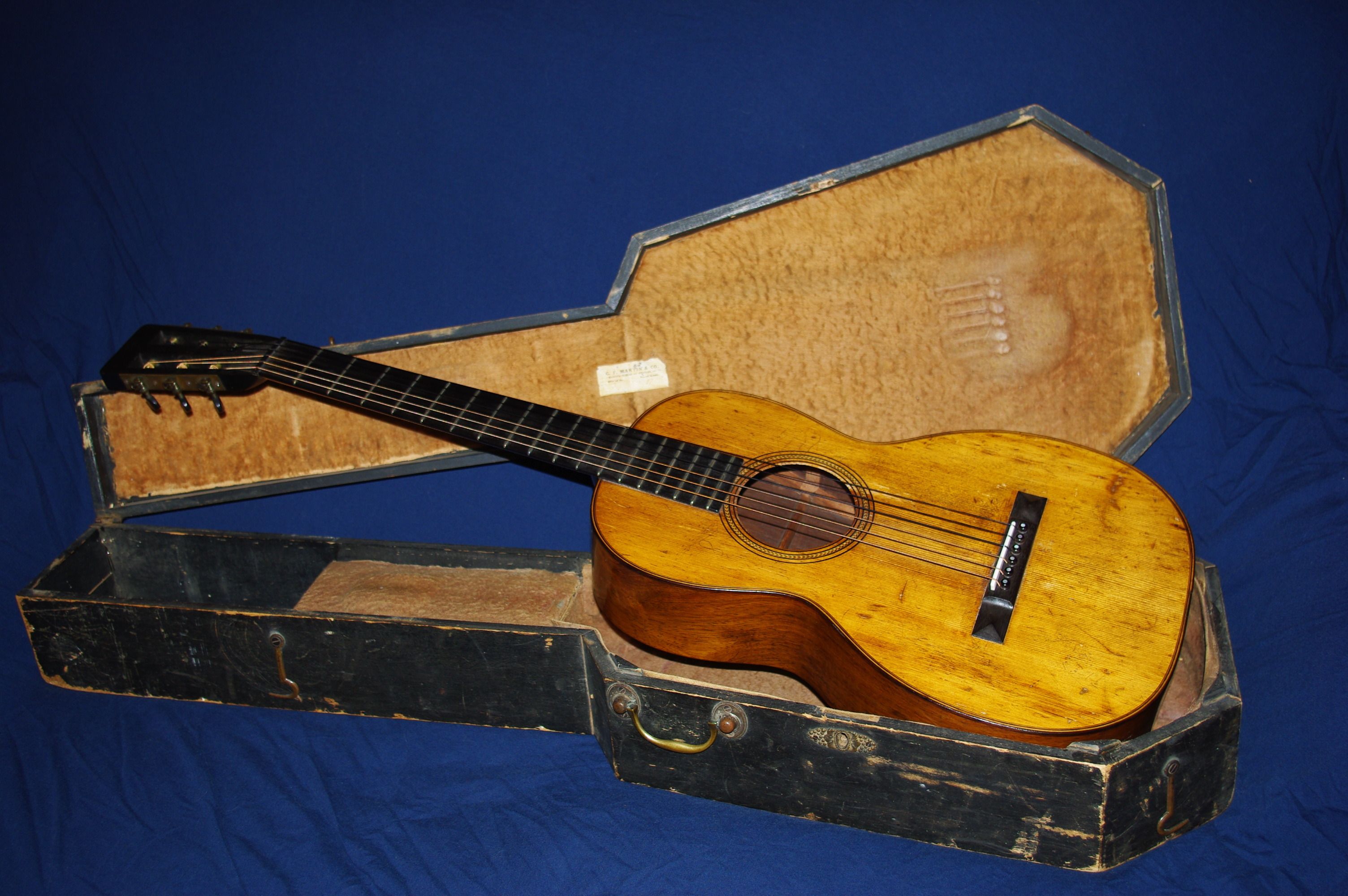 Number Three: 1850 Martin, Size 1, Model 21. Another  rare Martin, dated to 1850 by construction features. This guitar had been owned previously by a family in the central Ohio area for about eighty years, in serious need of repair. As many of the 19th century parlor guitars had been modified for steel strings, this Martin was no exception, other than the fact the steel-string bridge had been bolted to the guitar, seriously damaging the sound board. Steve was able to purchase the guitar in it's original case, and did all of the repairs required himself. This guitar has become the workhorse of the collection, and Steve has plans for more repairs and updates in the future.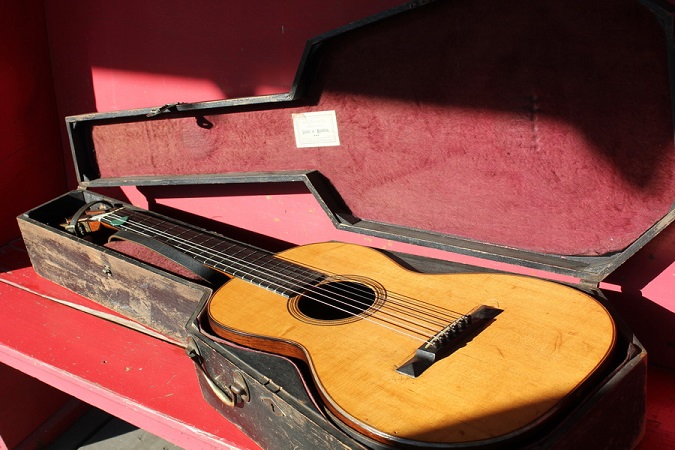 Number four: 1852 Martin, Size 2, Model 30. All original, original pre-Civil War coffin case. This guitar being a Model 30 has wonderful inlay around the sound hole, and beautiful wooden inlaid binding around the edge of the top of the guitar. Examined by the Martin Guitar company in 2014, and at that time considered to be a unique example of this model of Martin Guitar. At that time. Dick Boak of the Martin Guitar Company discovered a key at Martin fit the lock in this guitar's case, and was kind enough to give it to Steve and Lisa. A beautiful guitar, in the correct case, with a lock and key that work!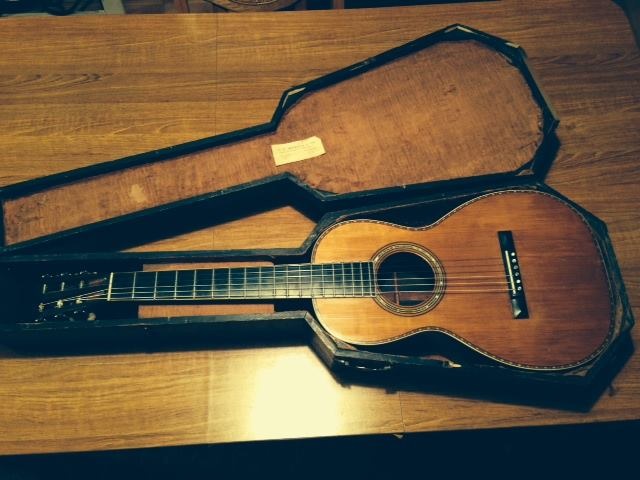 Number Five: 1855 Martin, size 1, model 26. All original, except bridge. original case. Beautiful guitar, beautiful Brazilian rosewood back and sides, ivory trim on top and back, original tuners. Bridge has been replaced sometime in the past, this guitar is scheduled to have the correct pyramid-style bridge installed. Wonderful sounding instrument.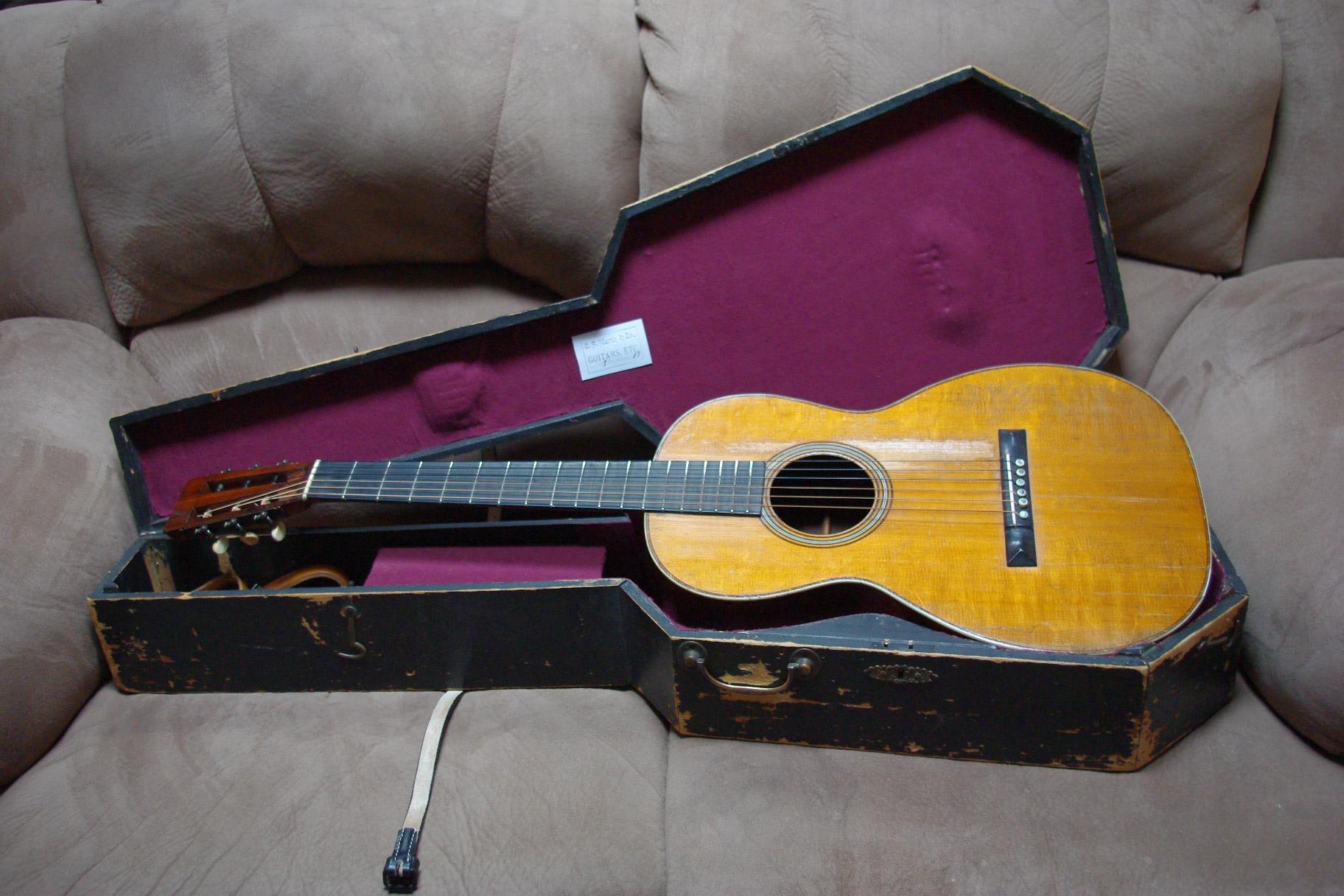 1852 Martin Size 3 Model 20, acquired last year (2016) and is awaiting restoration. In it's original case, all original guitar that has had a hard life. Hopefully will be completed in 2018.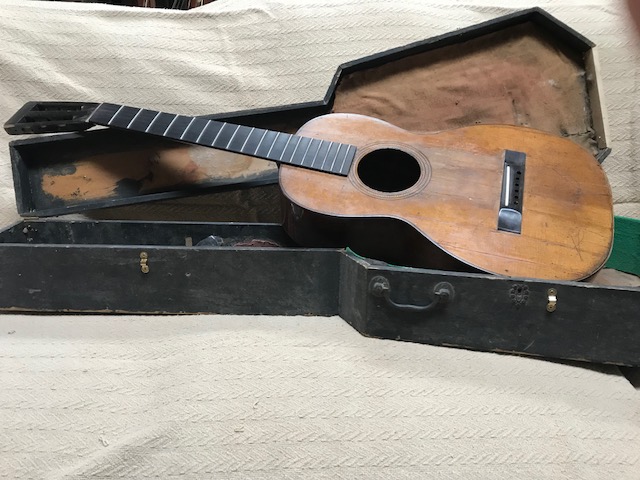 1860 Louis Schmidt size 3 guitar. This guitar is a significant piece of Martin history, as Mr. Schmidt was an apprentice at Martin, learning the guitar making craft from the best in the business. This guitar surfaced a couple of years ago, and Steve was fortunate enough to acquire it at that time. Needing complete restoration, scheduled for 2018.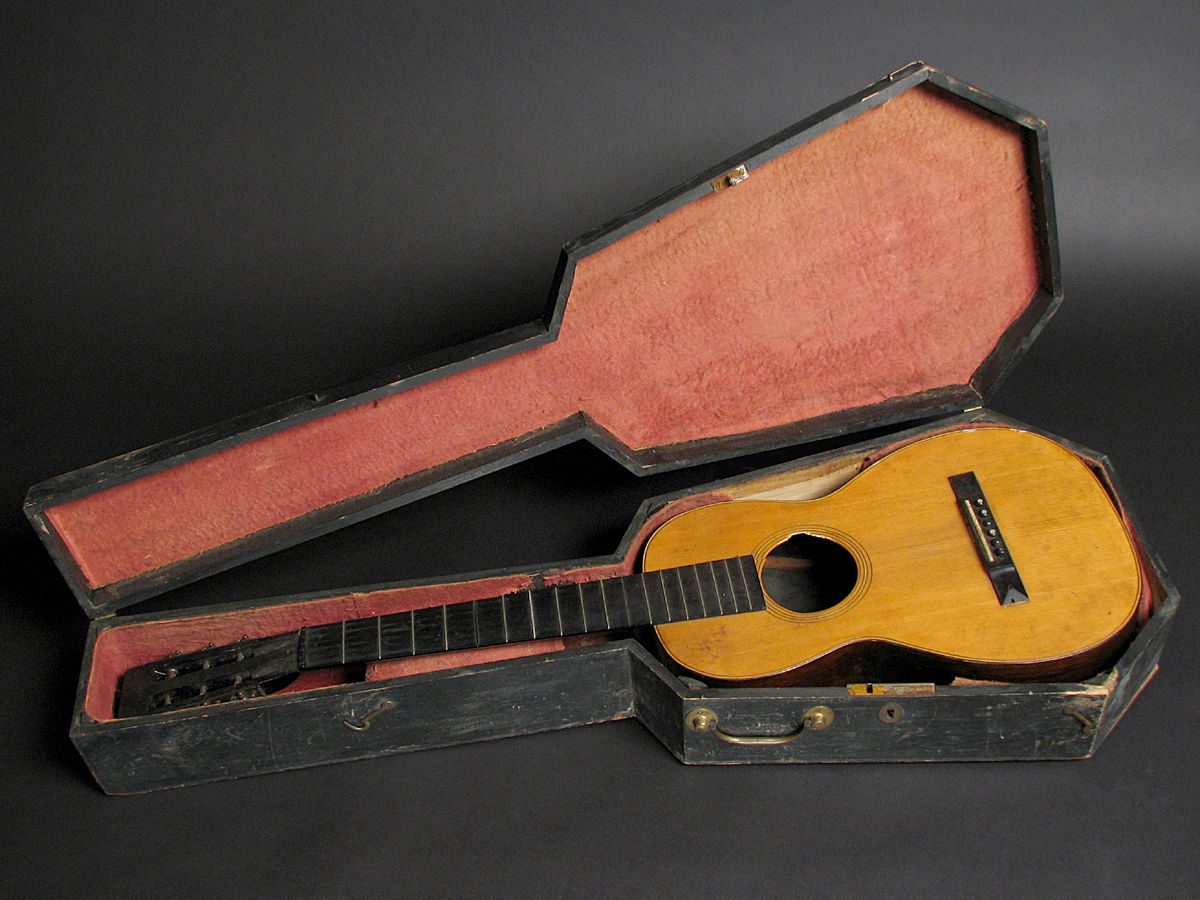 Steve strings his guitars with LaBella Folksinger guitar strings. If you are fortunate enough to locate and purchase one of these incredible little guitars, never use steel strings of any kind. A very quick way to ruin a piece of history. And remember, a person never "owns" an instrument like this, one is only the present caretaker, as these guitars have been around for generations, and with proper care, will continue to exist long after we mortals have moved along.